Hobie Mirage Revolution 13 Kayak
The Revolution Series showcases the true combination of speed and power. The Revos' sleek design makes them so fast and stable that no wave,wake or wind can slow them down. The Revo 13 hits the sweet spot in terms of stability, speed, and tracking performance. Its 28.5" beam enhances stability and maximizes capacity without slowing you down, so you can hit the water with friends and always stay in the lead. Revos come outfitted with the industry-leading MirageDrive 180 with Kick-Up Fins and ARC Cranks, a highly adjustable Vantage CT seat, ample storage space, molded-in rod holders, and a Twist and Stow Rudder.
Available colors are Slate Blue, Papaya Orange, and Sea Grass Green.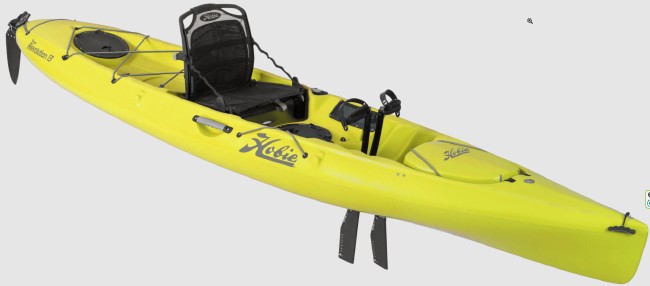 Specifications:
Crew: 1

Length: 13' 5" / 4.09 m

Width: 28.5" / 0.72 m

Capacity*: 350 lbs / 159 kg

Fitted Hull Weight*: 70.5 lbs / 32 kg

Fully Rigged Weight*: 88 lbs / 40 kg


Features
MirageDrive 180 with Kick-Up Fins and ARC Cranks
Twist and Stow Rudder
Vantage CT Framed Seat w/ unparalleled adjustability for utmost in comfort
Two-Piece Paddle w/ On-Hull Storage
Large Covered Bow Hatch
Sail Mount
Two Molded-In Rod Holders
Rear Cargo Area w/ Bungee® Tie Downs
Two 8" Twist and Seal Hatches w/ Gear Bucket
THookless Mesh-Covered Stowage Pockets & Drink Holder
Lowrance® Ready System included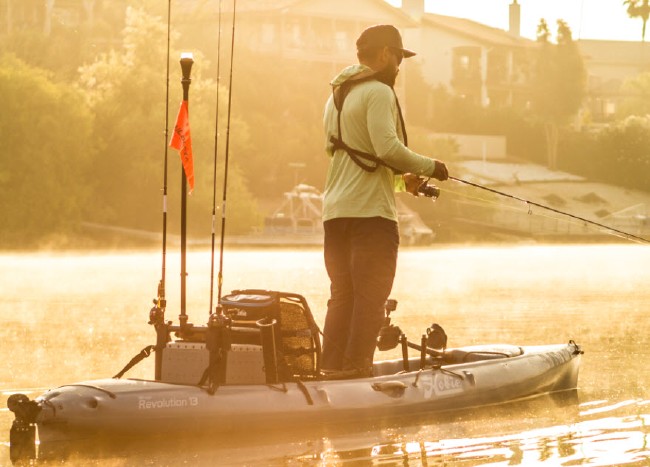 $3,399.00