Hobie Mirage Passport 12
The 12-foot Mirage Passport takes you where you want to go with ease and world-class authority with pedal propulsion. This year, the Passport 12 has been upgraded to the MirageDrive with Glide Technology and Kick-Up Fins. The Glide Technology reduces resistance when pedaling improves the smoothness of the drive, by way of added roller bearings at key friction points, while the patented Kick-Up Fins automatically retract when an under-water obstacle is hit. When you're not relaxing in the Passport's breathable mesh seat, a wider cockpit area with EVA floor padding provides a stable platform for standing and stretching your legs or casting a lure.
There's plenty of real estate to stash equipment on the bow or stern cargo areas and more below deck access through the center 8" Twist-n-Seal hatch. Anglers will be happy that the Passport 12 has a transducer cavity and scupper for simple install of your favorite fishfinder and a Power-Pole® Micro bracket indent to mount your favorite shallow water anchor.
Additional features include steering system with stowable rudder, two fishing rod holders, accessory tracks, and under seat and gunnel tackle storage.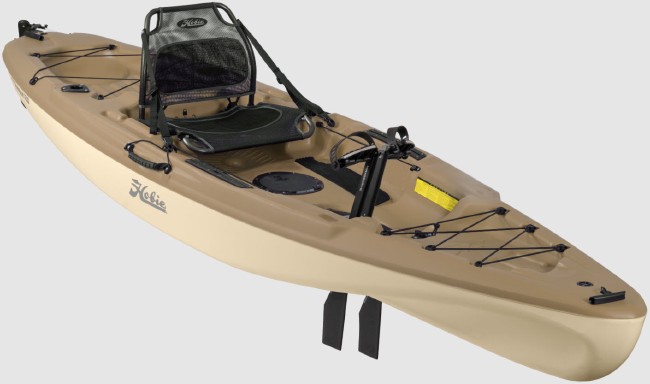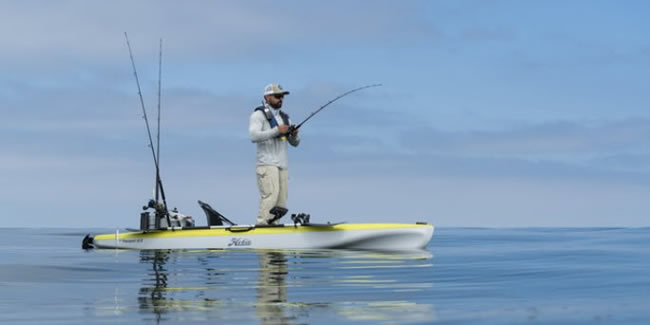 Features
Two-tone Hull
Mirage Drive MD GT
Transducer Cavity for Simple Fishfinder Install
EVA Padded Standing Platform
Rod Holders (2)
8" Twist-n-Seal Hatch ~ Option to Upgrade to Rectangular Hatch
Accessory Mounting Tracks
Bow and Stern Cargo with Bungee
Mounting Pad for Power-Pole® Micro Install

$1,999.00
(Slate Blue, Seagrass Green or Bay Sand)