Hobie Mirage Passport 10.6

The Mirage Passport 10.6 takes you anywhere you want to go with the ease of pedal power and the world-class authority that comes with the Hobie brand. Every feature is designed with your entertainment in mind. And everything we have in mind for you is seriously fun. The easy-to-use steering system and simplified rudder puts navigation at your fingertips and a smile on your face.
Enjoy the power and simplicity of the MirageDrive with Glide Technology and Kick-Up Fins. The patented Kick-Up Fins eliminate underwater clashes with debris, logs, rocks and other shallow-water hazards by automatically "kicking up" on impact. Pedal to places others can't. Move easily across shallows or through the weeds and reach even the most remote waters without tiring. After all, we work hard so your legs don't have to.
Our job is to design fun pedal kayaks. Your job is to enjoy yourself.
Your ticket to adventure & fun.
Specifications:
Crew: 1

Hull Length: 10'6"
Width: 34"
Capacity: 325 lbs
Fitted Weight: 65 lbs
Full Rigged Weight: 75lbs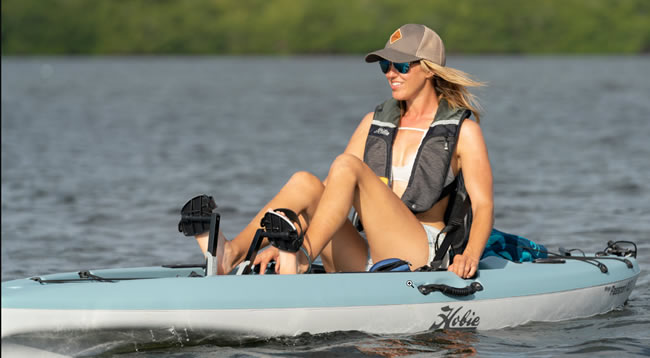 Features
Two-tone Hull
Mirage Drive MD GT
Suspended Mesh Aluminum Frame Seat
Steering System with Stowable Rudder
Aluminum 2 Piece Paddle
Rod Holders (2)
8" Twist-n-Seal Hatch
Accessory Mounting Tracks (2)
Vertical Accessory Tube (Sail and Bimini)
Bow and Stern Cargo with Bungee
Replaceable Keel Guard
Stackable Hull Design
Cargo Scuppers for Hobie Cart and Hobie Livewell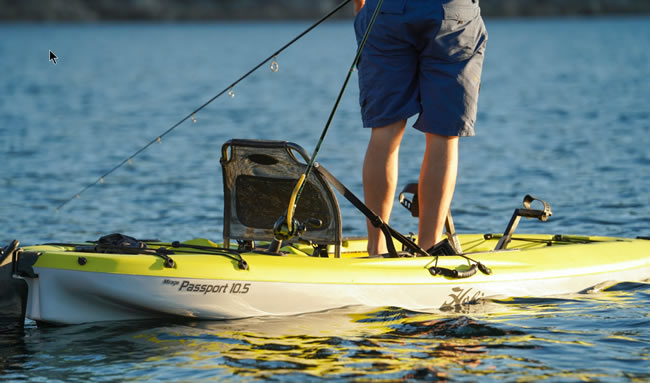 $1,799.00
(Slate Blue, Seagrass Green and Bay Sand)